Hydro Solutions Power and Soft washing has the perfect Deck Staining Louisville equipment and settings of solutions and pressure to clean wood the proper way. We will restore your deck using tried and true methods that deliver results.
Using an uncertified cleaner during deck restoration can cause more harm than good. Deck Restoration Louisville Ky
---
Deck Restoration Services: Cleaning And Staining, Louisville, KY
Not only does a properly-maintained deck look better, but it also lasts longer. Louisville Deck Staining, The key to this is a professionally applied seal. This is a multi-day project because time is needed between the wood cleaning and sealing. You can do it by yourself, but using Hydro Solutions Power And Soft Washing LLC can guarantee your deck comes out looking superb. Deck cleaning and staining Louisville Ky
If you wonder if your deck needs a stain or sealant, a water test is the easiest way. Sprinkle a little water on your deck; if it soaks in immediately, the deck needs to be sealed. But, If the water beads up or rolls off, your deck may not need filling yet. However, you may need to apply a new wood treatment. Louisville Deck Staining
Our deck restoration service will clean and seal your deck to help make it like new again. With Hydro Solutions Power & Soft Washing, you not only get the perfect crew to clean it, but we can seal and stain your wood as well. We recommend a nice product semitransparent and a solid in many different colors. We do back our work with a 2-year warranty if we clean it before staining it.
Stain or Sealer for Deck Restoration
Making sure you choose a deck stain or sealer that will repel water, resist mildew, and the ability to prevent fading in high traffic areas is essential. Sealers and stains are either water-based or oil based. Each type of stains offer something different, but equally essential, depending on what outcome you are seeking. If you are looking for something that will hold a color a bit longer, then oil-based is what you are after. If you are searching for durability or something that tends to last a bit longer, then a water-based finish would suit you better.
There are four major categories of sealants and stains listed below. Each contains an increasing level of pigment. This detail is important because, the more pigment you apply, the less wood grain and texture are visible, thus better protecting your wood.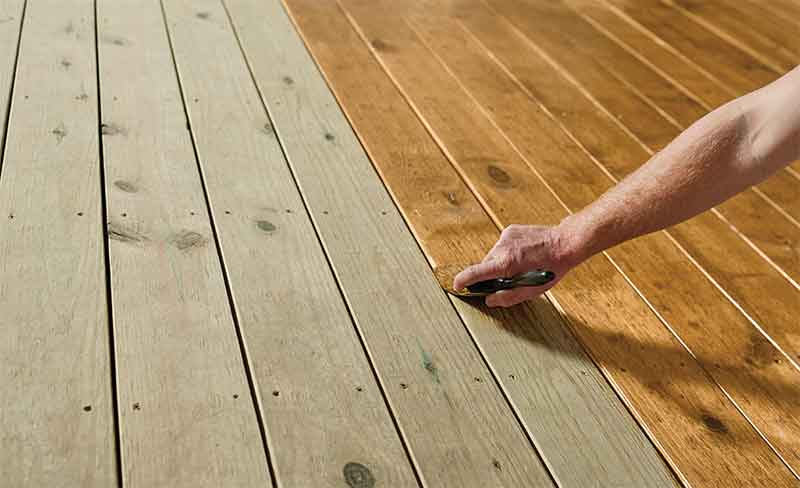 Clear-Water
Clear-Water repellent provides your most basic protection. This includes waterproofing, minimal UV protection, and occasionally mildew growth prevention. Because these are clear finishes, there is a very minimal amount of UV protection and your underlying wood will begin to gray within a few months. This repellent will typically last from 6 months to about 1 year.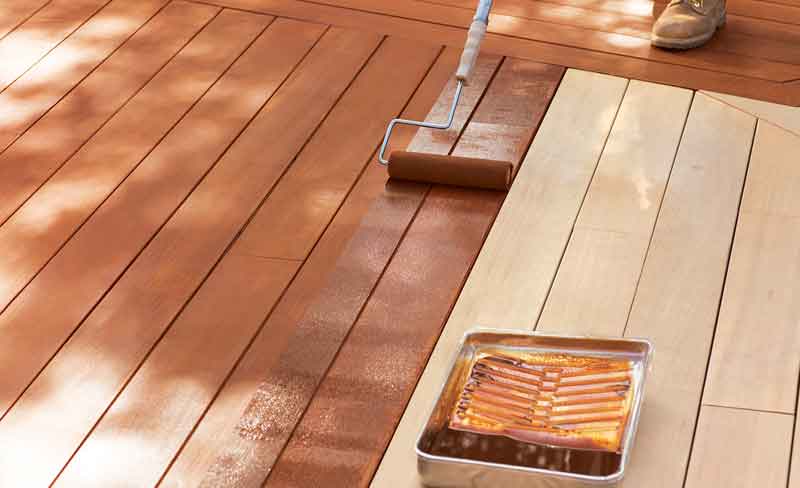 Toner
Toner also called Tinted water repellent is very similar to a clear sealant, except a small amount of pigment color is added. This small amount of pigment provides additional protection against sun damage, further delaying the graying of your deck. In addition, the color can help to restore the original look of the wood even if a small amount of fading has occurred. Concrete Cleaning And Sealing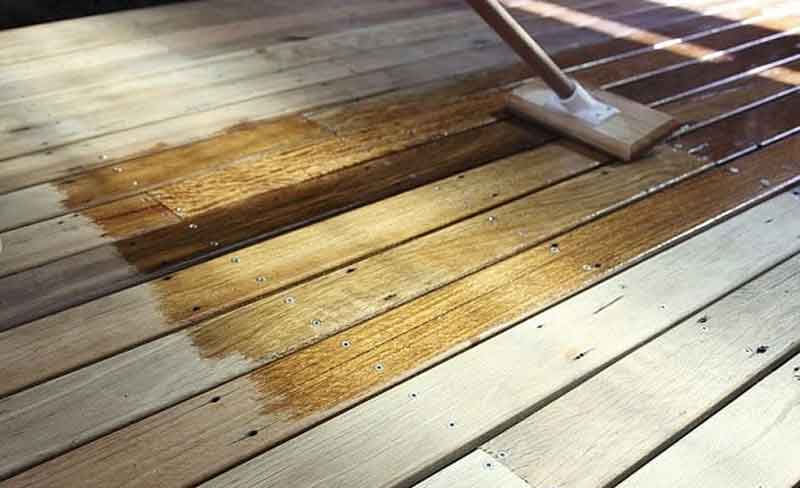 Semi-Transparent
Semi-transparent stain contains an additional amount of pigment, this provides subtle color, while still showing the grain/texture of wood. Same as the Tinted, this provides additional protection against water and sun damage, typically lasting for two to three years. When choosing a stain, it is important to remember that the finished color varies based on the wood itself. If you are applying a new stain over an old one, choose a color that is similar to or darker than the original. Try a small test-spot of the stain in an inconspicuous area to ensure the proper color adherence. Louisville Ky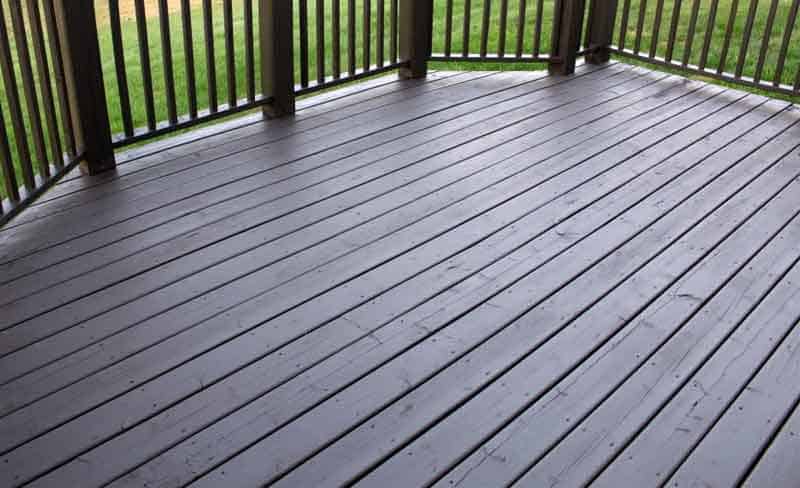 Solid
Solid stains provide the most pigment color and, therefore, the best protection for the wood. However, keep in mind it also hides the wood grain, only allowing some of the texture to show through. Because of the excellent hiding properties, solid color wood stain is often used for heavily weathered wood, covering up damaged wood fibers. There are often more color choices with this category. Performance is usually 3 to 5 years or more, depending on the level of direct exposure to sun and weather and degree of foot traffic encountered. Pressure Washing Building Exterior
---
Some of our other residential services we offer.
Hydro Solutions Power And Soft Washing LLC is the Louisville area's preeminent pressure washing and soft washing company. Our team has more than 10 years' experience and expertise in every aspect of exterior cleaning, for both residential and commercial buildings.
Our experience and talent comes with the Hydro Helpers Guarantee: When we give you a quote, you are getting a guaranteed price without exception. We don't add additional costs, nor do we add any hidden fees. Our technicians are certified in pressure washing and soft washing processes and can answer any questions your might have about our exterior cleaning services.
Part of our guarantee is providing top-notch customer service - we will go the extra mile to meet or exceed your expectations. Because we understand your home or business is your most valuable asset, we take care not to damage surfaces while ensuring a high-quality clean that protects and preserves the beauty and health of your home.
Receive your free quote today!