Roof Cleaning Service Louisville Ky.
Soft on Shingles,
Tough on Stains
At Hydro Solutions Power And Soft Washing. We provide industry-leading exterior cleaning services. We help restore your roof's appearance. Suppose your roof needs a deep clean. Our advanced roof-cleaning equipment and service use a proven and highly rated process to bring it back to life.
Roof Cleaning Louisville, Ky
Firstly, If left untreated, moss can shave years off of the life of your roof. Moss spreads rapidly, especially in the Ohio Valley climate. Thirdly, as a result, root systems grow between, underneath, and into the surface of your roof's shingles and tiles. In addition, that being said, this could expose your roof and trap water and excess heat. Also, many insurance companies require consumers to keep their roofs in good condition. Cover damage due to poor maintenance or wear and tear. Moreover, don't risk a costly roof replacement or repair by ignoring issues that can be handled with a simple cleaning. Learn more about our Roof Cleaning For Multi-Family And HOA's
Additional Roof Cleaning Benefits
Secondly, there are many other benefits associated with a clean roof. Our expert technicians will ensure that health and safety considerations are adhered to at all times. In addition, we will not compromise on quality or take shortcuts to get a job done quicker than it should be done; that's part of our guarantee!
Roof Cleaning & Restoration
Improves the look of your home
Adds value to your property
Protects your roof
Extends the life of your roof
Protects against frost damage
Fast, safe & affordable
If you are concerned about your roof, whether it is overgrown with moss or looks dirty, we can help! Further, our technicians can often survey your home using satellite technology to provide a quote remotely. However, we always prefer to visit your property to ensure the most accurate assessment possible.
---
Did you know that your asphalt roof can lose up to 40% of its life from damage caused by moss, algae, and other debris left on the roof surface?
Asphalt Roofs
Since asphalt roofs need to be cleaned carefully to minimize the risk of damage or voiding your roof's warranty. That's why Kentuckiana has been choosing Hydro Solutions Power And Soft Washing for all of its asphalt roof cleaning needs for more than ten years. And especially our asphalt soft wash methods will extend the life of your asphalt roof and keep the warranty intact.
By all means, our industry-leading cleaning agents are specifically designed for asphalt roof cleaning. Also, it completely removes moss, algae, lichen, bacteria, and many of nature's most damaging roof infestations.
---
It's time to get that cedar shingle roof back to its
original luster

.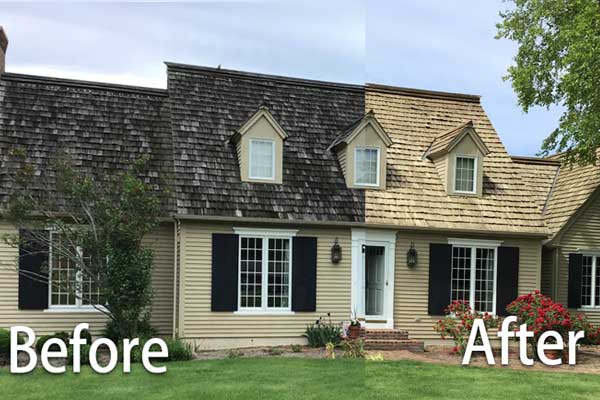 Wood & Cedar Roofs
Even more professional soft wash for cedar shake roofs provides a deep clean that leaves your roof in pristine condition. Of course, a clean roof also extends its lifespan and increases your property's curb appeal and value.
Also, cedar shingles need to breathe, so removing moss, dirt, and other infestations is essential. However, regular power washing will damage a cedar shingle roof and potentially void the roof's warranty. Nevertheless, this is why our technicians use a soft wash cleaning system for all cedar shingle roofs. Consequently, you can enjoy a clean roof without damage to the shingles.
---
Are You Looking for a Professional and Experienced Roof Cleaning Service to Clean Your Metal Roof?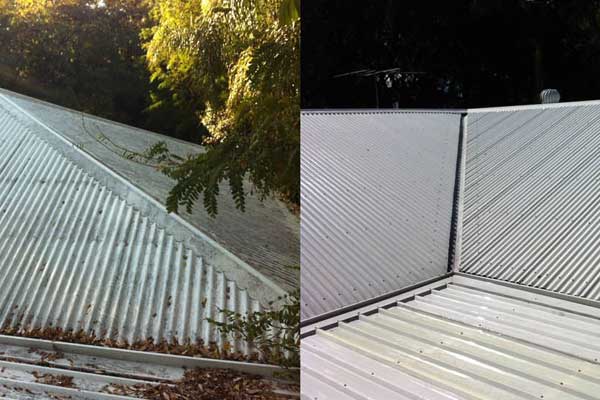 Metal Roofs
Nevertheless, the soft wash roof cleaning technique will restore your metal roof to its original luster. Not only will the treatment increase your roof's lifespan, but gentle washing will not damage the surface but will eliminate all forms of algae and organic growth.
However, depending on the type of metal, roof pitch, and roof coatings, we will employ the correct cleaning method to get perfect results that don't cause any damage.
Call us today for a free quote, and you can see how we will bring your metal roof back to life once and for all.
---
We can make your tile roof look
brand new

again.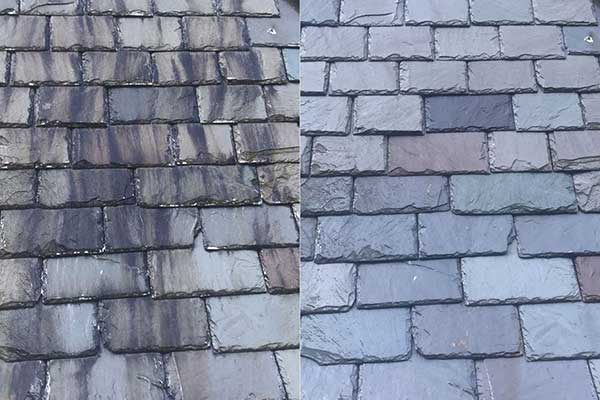 Slate / Tile Roofs
Consequently, the soft Wash Slate roof cleaning process extends the life of your tile roof. It increases your home's curb appeal, adding value to your property. Another critical point it is essential to realize is that your tile roof is the first line of defense against the outdoor elements and protects everything under it. Indeed cleaning and maintaining your roof will reduce moss, which builds up in the spaces between the tiles and at the edges of the tiles. Water can become blocked, causing backflow into the roof, resulting in leaks. Moss and algae will also eat away at the slate roof's coating, which results in loss of color and significantly reduces its lifespan.
Our soft wash slate roof cleaning process extends the life of your tile roof and increases the curb appeal of your home, adding value to your property. Call or contact us today for a free quote.
---
Some of our other residential services we offer.
Hydro Solutions Power And Soft Washing LLC is the Louisville area's preeminent pressure washing and soft washing company. Our team has more than 10 years' experience and expertise in every aspect of exterior cleaning, for both residential and commercial buildings.
Our experience and talent comes with the Hydro Helpers Guarantee: When we give you a quote, you are getting a guaranteed price without exception. We don't add additional costs, nor do we add any hidden fees. Our technicians are certified in pressure washing and soft washing processes and can answer any questions your might have about our exterior cleaning services.
Part of our guarantee is providing top-notch customer service - we will go the extra mile to meet or exceed your expectations. Because we understand your home or business is your most valuable asset, we take care not to damage surfaces while ensuring a high-quality clean that protects and preserves the beauty and health of your home.
Receive your free quote today!